Rund um Santa Fe und Albuquerque - New Mexico
Höhe über Normal Null: Santa Fe
Unsere Besuche: Bisher 2 Besuche im September 2011 und Oktober 2014
Beschreibung: Seit dem 12. Jahrhundert existieren hier Siedlungen. Zuerst von Ureinwohnern, später von Spaniern bewohnt, ist Santa Fee somit die älteste Hauptstadt in den USA. Auch besitzt New Mexico hier einem etwas ungewöhnliches State Capitol. Es ist das einzige runde Capitol in den USA und wird deswegen auch Roundhouse genannt. Es wurde, in Anlehnung zum Sonnensymbol der Zia, so gebaut und im Dezember 1966 eingeweiht. Schon immer war Santa Fe ein wichtiges Handeszentrum entlang dem Santa Fe Trail. Außerdem beheimatet Santa Fe heute viele Galerien mit Malereinen und Kunsthandwerkern. Auch am Capitol kann man den künstlerischen Einfluss an vielen Skulpturen erkennen, die überall drumherum stehen.
Für das Navi: 490 Old Santa Fe Trail, Santa Fe, NM 87501
Unsere Bewertung: Schlendert man durch die Straßen der Altstadt von Santa Fe, kann man am Capitol leicht vorbeigehen. Dadurch, dass es von einem großen Park umgeben ist und die Kuppel fehlt, fällt es kaum auf. Leider hatten wir keine Zeit es von Innen anzusehen, aber mit dem vielen Skulpturen drumherum fanden wir es auch von Außen durchaus sehenswert.
Beschreibung:  Eine Stiftung zeichnet sich für den Bau des Museums verantwortlich. Sie soll dem Erhalt des Werkes der Künstlerin dienen und umfasst weltweit die größte Sammlung von Gemälden von Georgia O´Keeffe. Auch die Bilder und Häuser in Abiquiu und der Ghost Ranch gingen 2006 an die Stiftung und werden seither von ihr verwaltet.
Das Museum ist jeden Tag von 10 Uhr bis 17 Uhr, am Freitag bis 19 Uhr geöffnet. Der Eintritt kostet 13$/Person.
Für das Navi: 217 Johnson St, Santa Fe, NM 87501
Unsere Bewertung: Für mich natürlich ein must see. Das Museum ist ein Highlight für jedem Georgia O´Keeffe Fan. Es gibt nicht nur viele ihrer Werke zu sehen, sondern auch Filme über die Künstlerin und einige Exponate aus ihrem Atelier.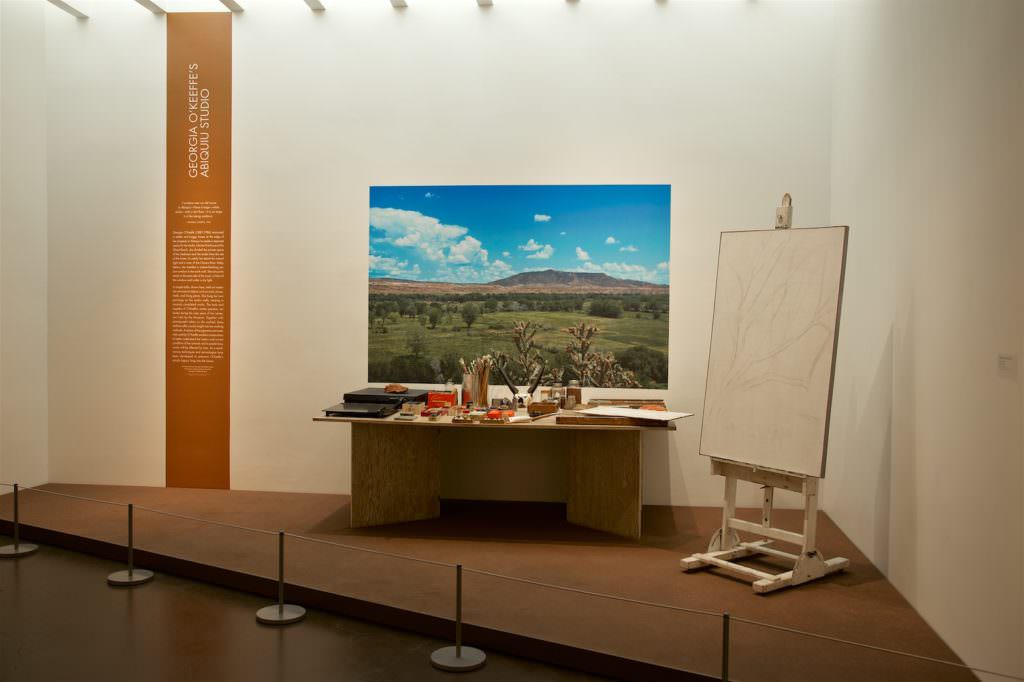 Beschreibung:  Das Leben in Old Town Santa Fe findet rund um die zentrale Plaza statt. Hohe Bäume bieten Schatten, Bänke laden zum Verweilen und jede Menge Läden zum einkaufen ein. In den Straßen und Gassen drum herum sind viele Häuser im Adobe Stil gebaut und bieten tolle Ecken zum entdecken. Außerdem kann man in unzähligen Galerien die Werke von vielen bekannten und unbekannten Künstlern entdecken. Natürlich sorgen auch zahlreiche Restaurants für das leibliche Wohl der Gäste.
Unsere Bewertung: Auch wenn die Old Town sehr touristisch daher kommt, hatten wir sehr viel Spaß daran, hier herumzuschlendern. Zugegebenerweise hatten wir im Oktober 2011 auch tolles Wetter und in der Stadt war jede Menge geboten. Es gab Stände, Ausstellungen und viele gut gelaunte Menschen auf den Straßen. Den Rest der Stadt fanden wir eher typisch amerikanisch, aber hier in der Old Town bekommt man doch was Anderes zu sehen. Wir können einen Besuch hier sehr empfehlen.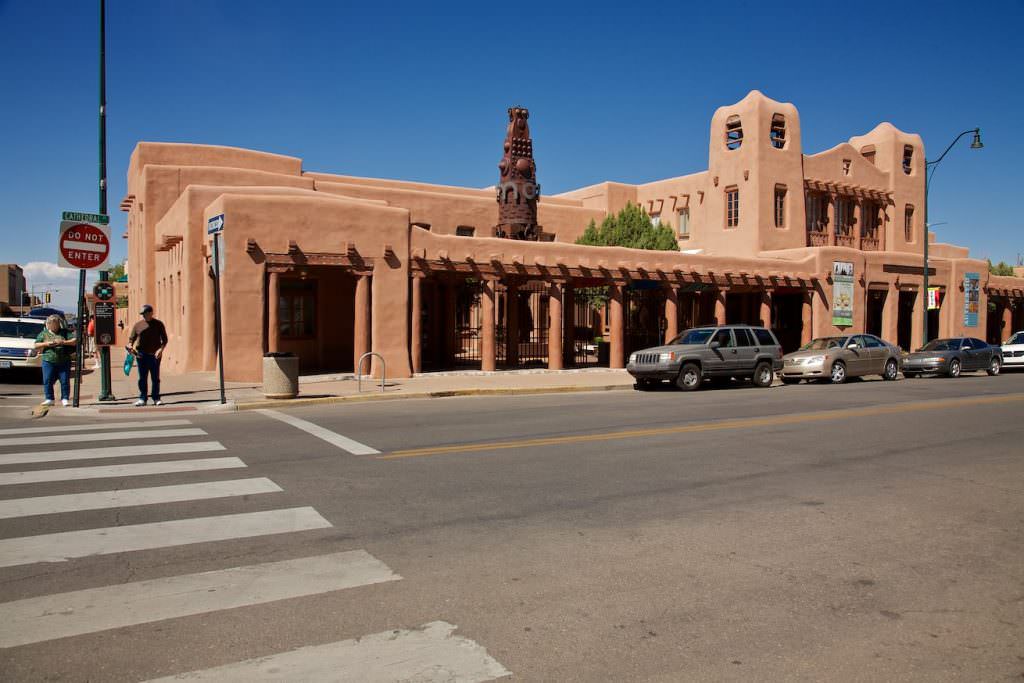 Cathedral Basilica of Saint Francis of Assisi
Beschreibung:  Die Kathedrale wurde 1886 durch Erzbischof Jean Baptiste Lamy errichtet. Die römisch-katholische Kirche wurde dabei auf den Grundmauern der früheren Adobe Kirche errichtet. Aus Geldmangel wurden die Türme nicht mit den vorgesehenen Spitzen vollendet. 2005 wurde die Kathedrale von Papst Benedikt 16. zur Basilika geweiht.
Für das Navi: 131 Cathedral Pl, Santa Fe, NM 87501
Unsere Bewertung: Eine wunderschöne, für europäische Augen, eher sehr schlichte katholische Kirche. Aber genau das ist es, was uns an der Kirsche ganz gut gefallen hat. die einzelnen Kunstwerke kommen sehr gut zur Geltung und gehen nicht in der Masse an Gegenständen unter. Wer in Santa Fe unterwegs ist, sollte hier auf jeden Fall einen Blick hinein werfen.