Rund um Farmington - New Mexico
Achtung: Auf ungeteerten Straßen können sich die Straßenverhältnisse ständig ändern. Deswegen empfehlen wir jedem dringend vor jeder Fahrt die Straßenverhältnisse zu checken. Vor gemeldetem, während oder kurz nach Regen bzw. Schneefällen raten wir davon ab ungeteerte Straßen zu befahren.
Höhe über Normal Null: Aztec
Unsere Besuche: Bisher 1 Besuch im Juni 2023
Beschreibung: Rund um Aztec findet man unzählige Arches.. Viele davon sind auf der Seite der – The Natural Arch and Bridge Society – verzeichnet. Ein paar davon haben wir im Juni 2023 besucht. Alle liegen östlich von Aztec und sind meistens über Dirtroads erreichbar. Die ungeteerten Straßen waren in gutem Zustand trotzdem war ein Fahrzeug mit hoher Bodenfreiheit für die ein oder andere Stelle recht nützlich. Um die Arches in den diversen Felslandschafen auch zu finden ist ein GPS ebenfalls von Vorteil.
Koordinaten:
Arch Rock: Breite 36.890924, Länge -107.849353
Drumstick Arch: Breite 36.814867, Länge -107.815120
Rooftop Arch: Breite 36.814681, Länge -107.814205
Petrog Arch: Breite 36.809039, Länge -107.805215
Pillar Arch: Breite 36.793492, Länge -107.894337
Kiss Arch: Breite 36.798774, Länge: -107.832869

Unsere Bewertung: Felsbögen zu suchen hat eine Menge Spaß gemacht. Was uns besonders gefallen und auch überrascht hat waren die vielen schönen Felsformationen die es zusätzlich zu den Arches überall gab. Oft waren die Felsbögen nicht sofort und offensichtlich zu erkennen deswegen haben wir öfter, trotz GPS-Koordinaten, auch mal länger danach gesucht. Bei so einer Suche mussten wir außerdem feststellen, dass der Kiss Arch nicht mehr existiert.
Hier sind die GPX-Dateien unserer Fahrt zu den Aztec Arches
Beschreibung: Der Cox Arch ist für uns einer der attraktivsten Felsbögen rund um Aztec. Die Anfahrt erfolgt über eine etwa 7km lange Dirtroad. Da diese mitten in einem Gas- und Öl-förder-Gebiet liegt, sollte sie auch meist in einem guten Zustand sein.
Vom Trailhead aus hat man zwei Wege um den Arch zu erreichen. Der direkte Weg führt direkt hinter dem Parkplatz nach oben und erfordert zwei schwerere Klettereinheiten. Wer sich das nicht zutraut kann auch den etwas längeren Weg wählen. Hier muss man zwar auch die ein oder andere Felsstufe nach oben klettern, der Weg ist aber bei weitem nicht so steil. Bei unserem Besuch im Juni 2023 haben wir uns für die zweite Variante entschieden. Die GPS Koordinaten der Wanderung beziehen sich also auch darauf.
Koordinaten:
Abzweig von der Teerstraße: Breite 36.949921, Länge -107.887429
Parkplatz und Trailhead: Breite 36.996083, Länge -107.910563
Cox Arch: Breite 36.997851, Länge -107.909173

Traillänge: ca. 2km roundtrip
Höhenmeter: 112m
Zeitbedarf: 1-2 Stunden
Schwierigkeitsgrad: mittel
Unsere Bewertung: Sowohl die kurze Wanderung als auch der Cox Arch haben uns sehr gut gefallen. Im Normalfall ist man hier alleine und kann die Natur in Ruhe genießen, bei unserem Besuch war allerdings die Ölförderanlage am Trailhead in Betrieb und sorgte so bei unserer Wanderung für eine sehr laute Geräuschkulisse.
Hier sind die GPX-Dateien unserer Anfahrt und Wanderung zum Cox Arch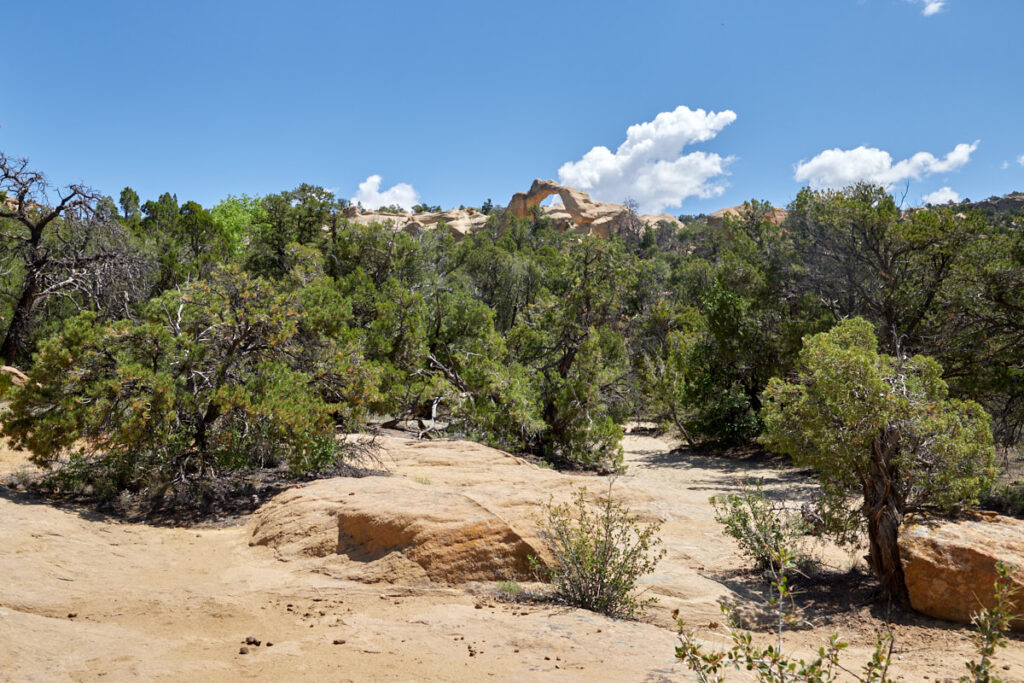 Beschreibung: Ein weiterer sehr hübscher Arch ist der Octopus Arch. Die Anfahrt führt hier zum großen Teil durch ein Wohngebiet und anschließend eine recht kurze Dirtroad auf ein Felsplateau hinauf. Bei unserem Besuch im Juni 2023 war diese in einenm guten Zustand. Ein Fahrzeug mit hoher Bodenfreiheit war von Vorteil. Vom Trailhead sind es nur ein paar 100m bis man den Arch unter sich sehen kann. Wer möchte kann auch noch zum Arch hinunter klettern.
Koordinaten:
Abzweig von der Teerstraße: Breite 36.926938, Länge -107.878402
Parkplatz und Trailhead: Breite 36.937518, Länge -107.860036
Octopus Arch: Breite 36.937139, Länge -107.860387

Traillänge: ca. 250 roundtrip
Höhenmeter: 17m
Zeitbedarf: 0.5 Stunden
Schwierigkeitsgrad: mittel
Unsere Bewertung: Leider ist ein Tentakel des ursprünglichen Arches abgebrochen so dass er nicht mehr wirklich wie ein Octopus aussieht. Trotzdem hat uns der Arch ganz gut gefallen.
Hier sind die GPX-Dateien unserer Anfahrt und Wanderung zum Octopus Arch