Höhe über Normal Null: Trailhead White Domes
Eintrittspreise und Öffnungszeiten
*Der Anual Pass ist so zu sagen die "Flatrate" für alle vom National Park Service verwalteten Einrichtungen. Der Pass kostet einmalig 80$ und kann am Eingang des jeweiligen Nationalpark, National Monument usw. erworben werden. Der Pass ist 13 Monate lang gültig.
Hier die GPX-Dateien unserer Wanderung zum Crazy Hill und zur Fire Wave
Unsere Besuche: Bisher 2 Besuche im Mai 2013 und Februar 2016
Beschreibung: Fährt man von Osten in den Park, befindet sich der Trailhead zum Elephant Rock direkt hinter der Bezahlstation für den Statepark. Der Weg ist ein paar hundert Meter lang und geht ein wenig bergauf. Der Untergrund ist manchmal ein wenig sandig. Um direkt unter, bzw. zum Elephant Rock, zu kommen, muss man am Schluss ein wenig klettern. 
Man sieht den Elephant Rock auch von der Straße aus, hier kann man aber nicht halten oder parken, deswegen muss, wer zum Elephant Rock wandern möchte, auf dem offiziellen Parkplatz stehen.
Traillänge: 1.92km roundtrip
Höhenmeter: 30m
Zeitbedarf: 1 Stunden
Schwierigkeitsgrad: leicht
Unsere Bewertung: Schöner, kleiner Trail mit einem tollen Arch am Schluss. Für uns war das im Mai 2013 ein schöner Einstieg in unseren Tag im Valley of Fire SP. Wir können den Arch empfehlen.
Beschreibung: Der kurze Trail zum Balanced Rock beginnt direkt am Visitor Center. Der Weg geht ein wenig auf und ab ist aber sehr gut zu laufen.
Traillänge: 320m roundtrip
Höhenmeter: –
Zeitbedarf: 1/2 Stunden
Schwierigkeitsgrad: leicht
Unsere Bewertung: Den Trail kann man sich sparen und sich den Balanced Rock von View Point an der Straße ansehen. Mit der Zeit kann man unserer Meinung nach Besseres anfangen.
Beschreibung: Die Fire Canyon Rd. war bei unserem ersten Besuch im Mai 2013 wegen Bauarbeiten geschlossen. 2016 im Februar konnten wir sie dann schließlich bis zum Silica Dome fahren.
Unsere Bewertung: Die Fahrt und auch der Silica Dome sind ganz nett, wir fanden aber das restliche Valley of Fire wesentlich spektakulärer. Allerdings haben wir uns nicht die Zeit genommen, hier zu wandern. Eventuell hätten wir uns dann mehr für die Gegend erwärmen können. Ganz nett, aber für uns kein must see.
Beschreibung: Der Parkplatz zur Rainbow Vista liegt an der Mouse´s Tank Road und bietet nicht nur einen dazugehörigen Trail, sondern auch eine Tolle Aussicht auf eine bunte Steinwelt.
Unsere Bewertung: Wir sind den Trail nicht gelaufen, er war uns zu sandig und auf den Fotos, die wir davon gesehen hatten, erschien er uns nicht so interessant wie die übrigen Locations, die wir uns ausgesucht hatten. An der Rainbow Vista sollte man aber trotzdem anhalten. Die Aussicht ist unglaublich. Wie immer können die Bilder zwar einen Eindruck vermitteln, aber sie kommen der Wirklichkeit nicht wirklich nahe.
Aktuell: Wegen extremer Hitze ist der Trail vom 01.Juni bis zum 30.September geschlossen. Alle andern Tails sind geöffnet. Alle Infos dazu finden sich auf der offiziellen Homepage.
Beschreibung: Im Valley of Fire SP darf man im Prinzip überall querfeldein laufen. Vom Parkplatz zur Fire Wave haben wir uns so einen eigenen Weg durch die bunten Felsen zur Fire Wave und wieder zurück gesucht. Wir sind zunächst in westlicher Richtung in das Gebiet hinein gelaufen und haben uns einen Weg hinunter in den Wash gesucht. Läuft man in diesem Wash nach Osten, kreuzt man die Mouse´s Tank Road. Läuft man diesen Wash auf der anderen Straßenseite weiter, gelangt man zur Fire Wave. Die Washes an der Mouse´s Tank Road sind nummeriert. Dieser hier ist die Nummer 5. Von der Fire Wave aus sind wir dann auf dem offiziellen Trail wieder zurück zum Auto gewandert. Der gesamte Trail ist unten zum Download verlinkt.
Traillänge: 5.11km roundtrip
Höhenmeter: ca. 200m
Zeitbedarf: 2-3 Stunden
Schwierigkeitsgrad: mittel – Es gibt hier keinen festen Trail. Manchmal muss man den Weg suchen und manchmal auch klettern.
Unsere Bewertung: Eine ganz tolle Wanderung auf der man, zumindest im ersten Teil so gut wie alleine unterwegs ist. Die Farben der Steine sind unglaublich. Diesen Trail können wir uneingeschränkt empfehlen.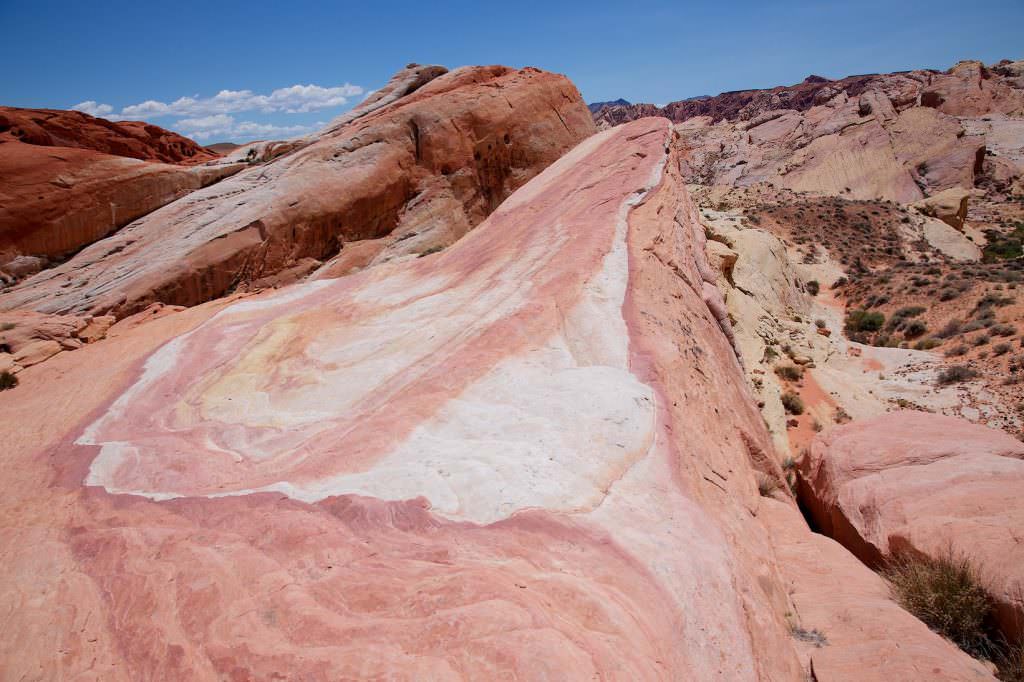 Beschreibung: Der Trailhead zu den White Domes befindet sich am Ende der Mouse´s Tank Road. Er führt erst über eine Sanddüne und dann in einen kleinen Canyon hinunter, dieser hat an seinem Ende eine kleine Slotpassage. Nachdem man wieder aus dem Canyon nach oben gestiegen ist, geht der Weg relativ eben zwischen bunten Felsen entlang. Da der Trail ein Loop ist, kann man ihn in beide Richtungen gehen.
Traillänge: 1.6km roundtrip
Höhenmeter: ca. 55m
Zeitbedarf: 1 1/2 Stunden
Schwierigkeitsgrad: leicht –  Der Trail ist gut ausgebaut und meistens leicht zu laufen.
Unsere Bewertung: Auch dieser Trail ist sehr sehenswert und abwechslungsreich. Neben dem Trail zum Crazy Hill/Fire Wave ist das hier unsere Lieblingswanderung im Park.
Beschreibung: Die Campground Road führt in einem Bogen an einigen hübschen Arches im Park vorbei. Sie ist durchgängig ungeteert, aber gut zu fahren. Bei unserem Besuch im Mai 2013 hätte man mit jedem PKW fahren können.
Unsere Bewertung: Ja, ganz nett. Am besten fanden wir die Fire Cave, weil sie auf Fotos riesig aussieht und in Wirklichkeit viel kleiner ist. Faszinierend was sich hier im Verborgenen für kleine Schätzchen verbergen. Da fragt man sich zwangsläufig, was sich hier in den Felsen noch so alles verbirgt, was noch nie jemand zu Augen bekommen hat.
Aktuell: Seit dem Frühjahr 2021 steht der hübsche kleine Windstone Arch in der so genannten Fire Cave nicht mehr. Laut der Park Ranger gibt es keine Hinweise dass der Arch absichtlich zerstört wurde. Da er sowieso schon einen größeren Riss hatte, geht man davon aus dass er der Erosion zum Opfer gefallen ist.