Los Angeles - Kalifornien
Beschreibung: Rund um die beiden Freizeitparks von Disney gibt es fast in jeder Preisklasse jede Menge Unterkunftsmöglichkeiten. Einige dieser Hotels bieten einen Shuttleservice zum Park an, andere liegen in Laufweite zu den Disneybahnen in den Parkhäusern, die die Gäste zum Eingang shutteln.
Wer außerhalb übernachtet und in einem der Disney Parkhäuser rundum den Park parkt, muss 25$/Tag bezahlen. Man kann aber dann aus dem Parkhaus, innerhalb der bezahlten 24h, so oft rein und raus fahren wie man möchte.
Von den Parkhäusern gelangt man zu einem Sicherheitsbereich, in dem eine Kontrolle, ähnlich der am Flughafen, stattfindet. Danach steigt man ihn die Bahnen und fährt direkt zum Parkeingang. Dieser Service ist übrigens kostenlos, auch wenn man nicht in den Parkhäusern parkt.
Unsere Bewertung: Wir haben uns für ein Hotel in Laufweite der Parkhäuser entschieden und waren mit dieser Entscheidung sehr zufrieden. In weniger als 30 Minuten waren wir so von der Hoteltür am Parkeingang. Alles war sehr professionell organisiert.
Beschreibung: Der Vergnügungspark wurde 1955 eröffnet und ist der einzige Disney Park, der unter der Oberaufsicht von Walt Disney entstand. Auch wenn der Park wohl eher für Kinder konzipiert ist, finden auch Erwachsene hier sicher etwas Interessantes. Gerade die Fans von animierten Filmen sind hier richtig. Mittlerweile gibt es in Anaheim, genau gegenüber,  einen zweiten Disney Park.
Da man sich das Anstehen erspart, empfiehlt es sich auf jeden Fall die Tickets vorher zu kaufen. Die Preise für eine Eintrittskarte starten im Moment (Stand Sommer 2019) bei 129$/Tag und Person. Je nach Saison kostet ein Tagesticket bis zu 149$/Tag und Person. Dazu muss gesagt sein, dass Tagestickets mit Abstand am teuersten sind. Außerdem gibt es aber auch noch Mehrtagestickets, bei denen sich der Tagespreis entsprechend reduziert. 
Unsere Bewertung: Uns hat der Park ganz gut gefallen, allerdings wird das für uns wohl das einzige Mal bleiben. Dafür gibt es zu viel andere Parks, die uns dann doch mehr interessieren. Aber einmal kann man durchaus gucken gehen und Micky und Minny besuchen. Für Familien mit Kindern ist da hier sicher ein Highlight. – Das war die Aussage nach unserem Besuch 1994.
Tja und wie das immer so ist, gab es dann für uns doch wieder einen Anlass Disneyland zu besuchen. Bei der Recherche für unseren Urlaub im August 2019 stellten wir nämlich fest, dass mittlerweile ein neuer Teil im Park eröffnet hatte. Galaxy ´s Edge. Für uns als Star Wars Fans ein absolutes Muss…
Wir hatten dabei aber leider nur einen Tag Zeit, um den Park zu besuchen. Das ist natürlich viel viel zu wenig Zeit, um auch nur annähernd alles zu sehen und zu erleben. Weil wir deswegen gekommen waren, haben wir uns  dann auch hauptsächlich im neuen Teil von Galaxy´s Edge aufgehalten.
Was uns im gesamten Park jedoch wirklich sehr begeistert hat, ist die Liebe zum Detail, mit dem alles dargeboten wird. Das macht wirklich Spaß und man wird dabei auch als Erwachsener leicht wieder zum Kind.
Beschreibung: Galaxys Edge ist der neueste Teil von Disneyland in Anaheim. Er wurde ein paar Wochen vor unserem Besuch eröffnet und so war das für uns als Star Wars Fans auch ein must see.
Galaxy´s Edge basiert auf der Geschichte von Star Wars und stellte den Black Spire Außenposten auf dem Planeten Batuu, am äußersten Ende der Galaxie, dar.
Dabei gibt es alles, was man auf so einem Außenposten erwartet, inkl. Restaurants, Geschäfte, Kneipen, Raumschiffe, Lichtschwerter und Droiden. Es gibt eine eigene Währung und alle Mitarbeiter halten sich an ihre Rollen. Das Land ist so gebaut, dass man während der ganzen Zeit wirklich das Gefühl hat auf einem anderen Planeten zu sein. Selbst Cola hat eigens für Galay´s Edge gestaltete Flaschen.
Unsere Bewertung: Wir sind Star Wars Fans und haben und deswegen auch sehr auf unseren Besuch hier gefreut. Auch wenn es mittlerweile einige sehr kritische Stimmen gibt, fanden wir unseren Besuch super toll. Würden wir in der Nähe wohnen, würden wir sicher noch viel öfter hingehen.
Wenn Anfang 2020 der zweite Ride Rise of the Resistance auch noch eröffnet ist, hat man sicher noch mehr Anlass Galaxy´s Edge einen Besuch abzustatten.
Allerdings gibt es auch einen großen Kritikpunkt und das sind die Preise. Außer dem einzigen Ride im Millennium Falcon kostet alles andere extra. Aber nicht nur das, es ist auch alles wirklich sehr sehr teuer. Wir finden es ein wenig schade, dass man das volle Erlebnis eigentlich nur hat, wenn man eine ganze Stange Geld investiert.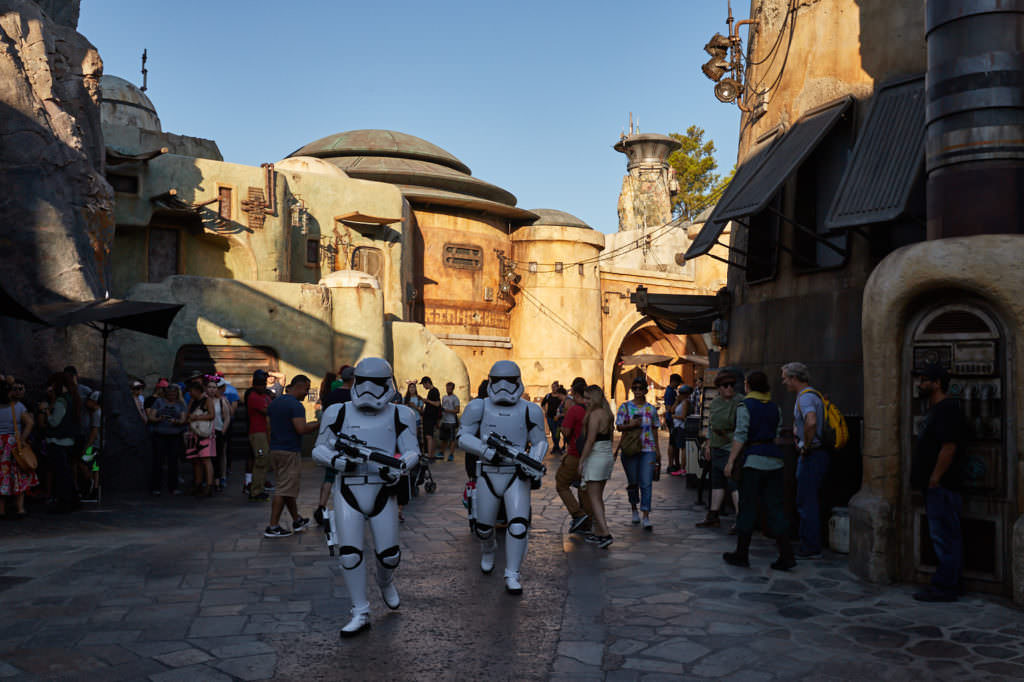 Millennium Falcon - Smugglers Run
Beschreibung: Die einzige Topattraktion, für die man nichts mehr extra bezahlen muss, ist im Moment (Stand Sommer 2019) ein Flug mit dem Millennium Falcon. Schon von Weitem kann man das legendäre Raumschiff von Han Solo sehen. Es ist auf jeden Fall ein richtiges Highlight. Leider gibt es hierfür keinen Fast Track, sodass sich jeder anstellen muss. Wir sind bei unserem Besuch 2x geflogen und haben uns einmal 50 Minuten und einmal 35 Minuten angestellt. Das klingt zwar im ersten Moment nach einer ganz schön langen Zeit, allerdings wird einem das Warten angenehm verkürzt.  Man läuft nämlich durch den gut klimatisierten und toll ausgestatteten Hangar und das macht schon richtig Spaß.
Ist man, nach einigen Kurven, ins Innere des Falcon vorgedrungen, wird man in Sechser-Gruppen eingeteilt. Es gibt 2 Piloten, 2 Schützen und 2 Ingenieure. Als Team muss man nun alle Aufgaben des Rides meistern. Wie wir feststellen durften, ist das ganze auch interaktiv und je nachdem, wie gut sich das Team schlägt, verändert sich auch der Ride ein wenig. 
Unsere Bewertung: Bei unserem ersten Flug hatten wir das Glück Piloten zu sein. Das ist mit Abstand der beste Posten, denn man sitzt vorne und so ist das Erlebnis doch um einiges intensiver. Aber egal mit welcher Aufgabe man betreut wird, der Ride ist einfach genial. Es hat super Spaß gemacht und wir würden dafür auf jeden Fall die Zeit investieren.
Ein MUSS wenn man Batuu besucht!!!
Beschreibung: Im Droid Depot kann man sich seinen eigenen Droiden bauen. Dabei hat man die Auswahl zwischen einem BB8 und einem R2D2. Natürlich kann man auch beide bauen. Bei beiden Serien gibt es eine Menge Farbkombinationen aus denen man wählen kann. So bekommt jeder seinen individuellen Droiden.
Alle Droiden kosten 99$ zzgl. Tax, egal welche Kombination man wählt. Hat man bezahlt und sich für einen Droiden entschieden, bekommt man einen Korb und kann sich die benötigten Teile von einem Laufband zusammensammeln. Hat man alles gefunden, bekommt man einen Bauplatz zugewiesen und kann, anhand einer sehr präzisen Anleitung, seinen Droiden zusammenbauen.
Am Schluss wird er aktiviert uns so zum Leben erweckt.
Unsere Bewertung: Hierauf hab ich mich schon von dem Moment an gefreut, als ich Galaxy`s Edge im Internet entdeckt hatte. Es hat einfach nur riesigen Spaß gemacht und mein BBQ ist einfach nur süß. Man kann ihn mit einer Fernbedienung steuern. Er rollert durch die Gegend und macht BB typische Geräusche.
Beschreibung: Oga´s Cantina ist eine Kneipe auf Batuu. Betrieben wird die Bar von dem Alien Oga Garra. Man trifft hier regelmäßig Schmuggler, Piloten und andere galaktische Reisende an. Das Highlight ist der Piloten-Droid RX-24, der hier als DJ arbeitet. Es ist der einzige Ort in Disneyland an dem alkoholische Getränke verkauft werden.
Möchte man hinein, sollte man auf jeden Fall rechtzeitig eine Reservierung haben. Diese kann man bis zu zwei Wochen vorher online machen. Für den Besuch hat jeder ein Zeitlimit von 45 Minuten. Deswegen sind die Reservierungen auch an bestimmte Uhrzeiten gebunden.
Tipp: Sollte für den gewünschten Termin nur noch ein Platz frei sein, kann man die Bestellung ruhig annehmen, denn man kann zu jeder Reservierung eine extra Person mit hinein nehmen. Aber Achtung: Sollte man die Reservierung ohne Stornierung nicht antreten, wird eine Gebühr fällig!!!
Unsere Bewertung: Da es sich um eine Bar handelt, gibt es nur am Rand ein paar Sitzplätze. Die meisten Leute stehen entweder direkt an der Bar, oder an den Stehtischen. Die Atmosphäre ist super cool und man hat wirklich das Gefühl, in einer Bar auf einem weit entfernten Planeten zu stehen. Alles, bis hin zu den Getränken und Snacks, ist authentisch. Der DJ war toll und es hat sehr viel Spaß gemacht hier zu sein. Wer den Weg nach Batuu auf sich nimmt, sollte sich das hier nicht entgehen lassen.
Beschreibung:  Außer Galaxy´s Edge hatten wir noch die Gelegenheit ein paar andere Rides zu fahren. 
Indiana Jones Adventures gehört zu den Dark Rides und findet wie der Name schon sagt im ziemlich schummrigen, fast Dunklen statt. Unheimlich schön gestaltet, macht schon der Weg ins Innere des Rides wirklich Spaß. Man könnte auch hier ständig stehen bleiben und sich umschauen.
Unsere Bewertung: Man fährt mit Geländewagen durch die Welt von Indiana Jones. Ehrlich gesagt war ich so konzentriert darauf mich bei dem ganzen geruckele nicht irgendwo am Auto zu verletzen. Deswegen hab ich von der Story um mich rum nicht so viel mitbekommen. Trotzdem war das ganze sehr authentisch und hat total Spaß gemacht. 
Diesen Ride können wir auf jeden Fall empfehlen.
Bevor es los geht wird man per Film über die Sicherheitsmaßnahmen instruiert.
Beschreibung: Ein weiterer Dark Ride, der im mehr oder weniger Dunklen stattfindet. Man fährt hier in Booten durch eine Sumpflandschaft. 
Dabei ist alles der Geschichte der gleichnamigen Filme nachempfunden. Die ganze Fahrt ist von zwei etwas spritzigen Abwärtsfahrten mal abgesehen,  eher ein ruhiges dahindümpeln im Wasser.
Unsere Bewertung: Abgesehen davon dass es im Inneren extrem nach Chlor roch, war die Fahrt durch den Sumpf ganz ok. Es ist jetzt nichts was wir 10x wiederholen müssten, aber man kann es sich ruhig mal anschauen.
Toll war auch hier die liebevolle und detailgetreue Aufmachung.
Beschreibung: Überall im Park kann man seine Lieblings Disney Figuren treffen. Mit Hilfe der Disneyland-App kann man rausfinden, welcher Charakter sich wann und wo im Park auffällt. 
Auch wenn man sich kaum vorstellen kann wie die armen Menschen es bei der Hitze in den Kostümen aushalten, sind sie doch sehr geduldig und machen mit jedem der das möchte ein Foto.
Unsere Bewertung: Als echter Disney Fan muss man einfach einmal ein Foto mit seinem Lieblingcharakter machen. Außerdem erinnern sie einen an die eigene Kindheit, denn auch wir sind mit Mickey und Co. aufgewachsen.