Rund um Flagstaff - Arizona
Höhe über Normal Null: Flagstaff
Unsere Besuche: Da der Interstate 40 sehr zentral quer durch den Bundesstaat führt sind wir fast auf allen unseren Reisen durch den Südwesten an dem ein oder anderen Ort entlang der Route 66 vorbei gekommen. Unser letzter Besuch war im Juni 2023.
Beschreibung: Die Mother Road zwischen Chicago und Los Angeles führt auch einmal quer durch den Bundesstaat Arizona. Es gibt einiges entlang der alten Route 66 zu entdecken. Da wir allerdings nicht so die riesigen Gerümpelfans sind, sind wir die Route 66 noch nicht explizit entlang gefahren. Einige Orte wie Williams, Flagstaff und Seligman haben wir besucht ohne viele Fotos zu machen. Aber auf unseren Touren durch den Südwesten sind wir doch an dem einen oder anderen Ort vorbei gekommen, an dem man noch die Überreste der alten Route 66 sehen kann. Leider ist der Großteil der Straße verschwunden und wird größtenteils durch den Interstate 40 ersetzt. Zwischen Seligman und Kingman kann man aber noch ein längeres Stück auf der alten Straße zurücklegen.
Unsere Bewertung:  Für alle, die sich für die Geschichte der Mother Road interessieren, gibt es in Arizona ein paar sehr schöne Orte. Die Straße wurde hier an manchen Stellen wie Seligman regelrecht wieder zum Leben erweckt. Läden, Tankstellen, alte Diner usw. wurden renoviert und erfreuen sich jetzt bei Touristen wachsender Beliebtheit. Je nach Interessenlage kann man schon ein paar Abstecher machen um auf den Spuren der alten Straße zu wandeln. Besonders gut hat uns der Hackberry Store zwischen Seligman und Kingman gefallen.
Beschreibung: Winslow wurde 1880 von der Atlantic and Paific Railroad als Kreuzung der Atchison and Topeka Railroad und der Santa Fe Railroad gegründet.  Heute ist die Stadt vor allem ein Anlaufpunkt für Route 66 Touristen, denn hier findet sich die berühmte "Corner in Winslow Arizona" aus dem bekannten Song "Take it easy" der Eagles. Rund um die Ecke gibt es dann auch ein paar touristische Einrichtungen wie ein kleines Route 66 Museum und ein paar Souvenierläden. Daneben findet man am Rande der Stadt auch noch ein paar andere kleine Sehenswürdigkeiten wie z.B. ein 9/11 Memorial oder einen hübschen Totem Pfahl.
Unsere Bewertung:  Das wir es erst nach mehr als 20Jahren USA Reisen hier her geschafft haben, zeigt vielleicht ein wenig die Wichtigkeit der Lokation für uns. Für Route 66 Fans ist das sicher anders. Uns hat der kleine Ort für einen Abstecher ganz gut gefallen. Extra hier her fahren würden wir nicht unbedingt.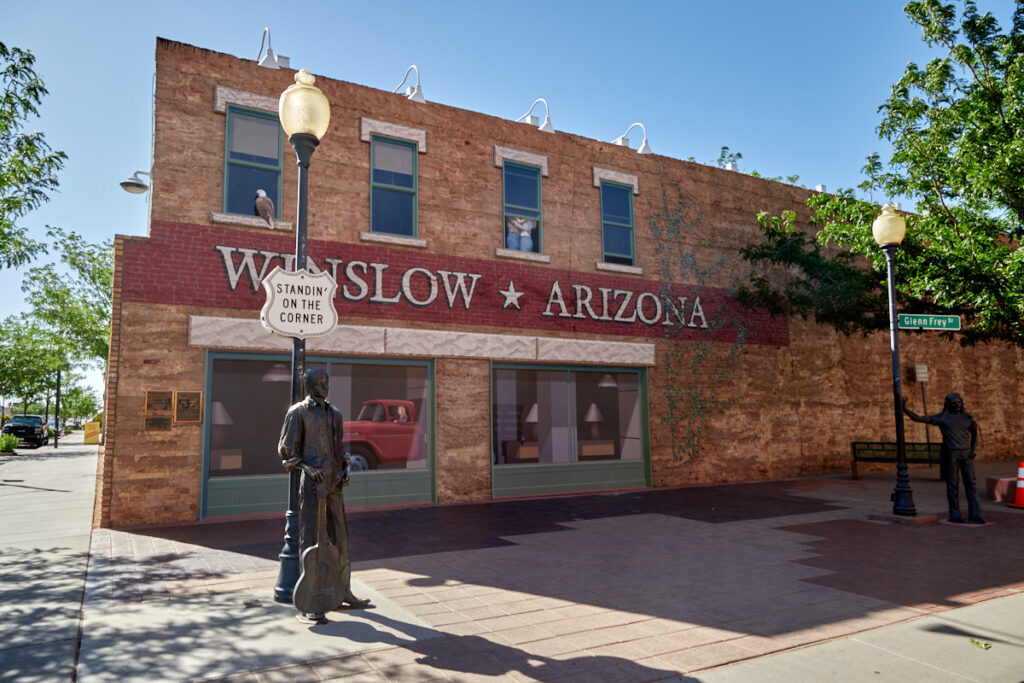 Beschreibung: Der Legende nach wurde Flagstaff gegründet als Siedler auf dem Weg nach Westen einen Übernachtungsplatz suchten. Sie wollten die Flagge hissen und gruben dafür einen Baumstamm als Pfahl in die Erde. Nach dem sie weiter gezogen waren kamen andere Siedler die dann rund um den Baumstamm die Stadt gründeten.
Heute ist Flagstaff eine kleine florierende Stadt die in allen Jahreszeiten, vor allem durch die Nähe zum Grand Canyon Nationalpark, ein beliebter Anlaufpunkt für Touristen ist. Auch führt ein kleiner Teil der historischen Route 66 durch die Stadt. Entlang dieser finden sich auch noch ein paar Relikte aus der Zeit als die Straße noch durchgängig von Chicago bis LA befahrbar war.
Unsere Bewertung:  Flagstaff ist wegen seiner zentralen Lage und seiner sehr guten touristischen Infrastruktur immer wieder ein beliebter Anlaufpunkt für uns. Neben dem macht es aber auch Spaß die historischen Altstadt bei einem Spazierganz zu erkunden. Wir mögen die kleine Stadt.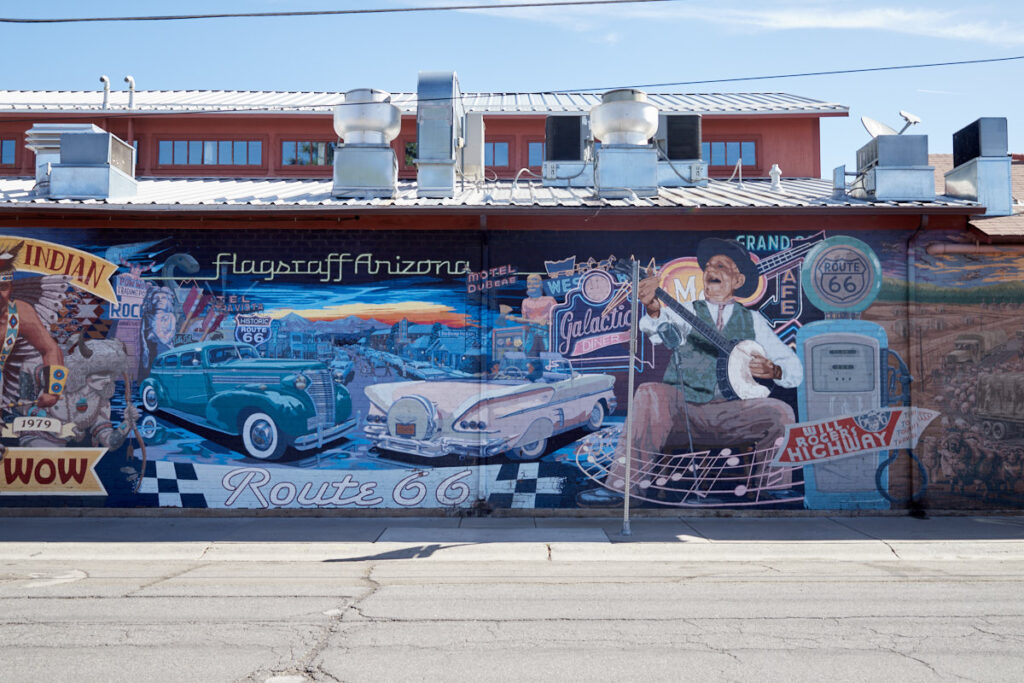 Beschreibung: Genau wie Flagstaff gilt auch Williams wegen seiner Nähe zum Grand Canyon National Park als quasi Eingangstor zum Park. Außerdem kann man von hier aus auch mit der Dampfeisenbahn zum Grand Canyon fahren. Neben dem kommen aber auch Route 66 Touristen hier voll auf ihre Kosten, denn auch hier sind viele der historischen Gebäude erhalten geblieben und bieten Route 66 Fans jede Menge zu sehen. Auch wenn die touristische Infrastruktur in Flagstaff um einiges mehr ausgebaut ist, findet man aber auch in Williams alles was man als Tourist für einen Stop benötigt.
Unsere Bewertung:  Auch Williams lag schon oft auf einer unserer Routen durch den Südwesten. Es macht immer Spaß hier einen Stop einzulegen um die kleine Stadt zu erkunden. Die Route 66 Memorabilien liefern immer hübsche Fotomotive.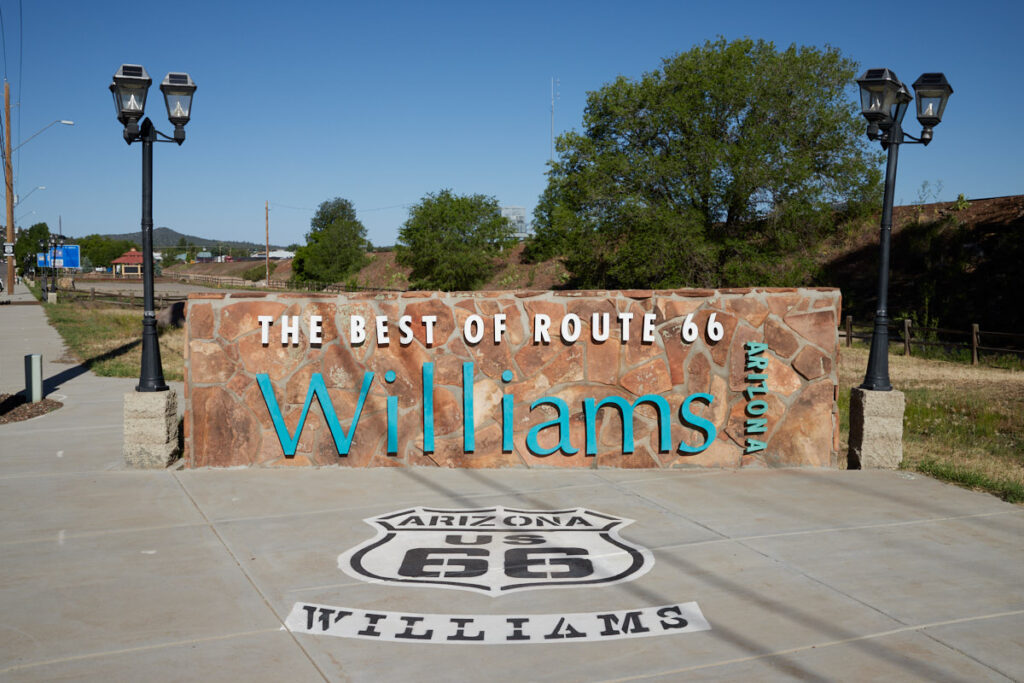 Beschreibung: Seligman nennt sich selber "Geburtsstätte der Route 66". Nach der Wiederbelebung der historischen Straße hast sich Seligman so auch zu einem der Anziehungspunkte entlang der Route 66 entwickelt. Es gibt jede Menge zu entdecken.
Unsere Bewertung:  Da wir nicht so die wirklichen Route 66 Superfans sind, sind wir zwar schon öfter durch den Ort gefahren, haben aber erst im Juni 2023 mal angehalten um ein wenig durch die Straßen zu laufen. Obwohl sich die wichtigsten touristischen Attraktionen direkt an der Hauptstraße befinden. Wir fanden es ganz nett auch mal einen kleinen Stop einzulegen und ein paar Fotos zu machen.
Beschreibung: Kingman entstand in den 1880er Jahren nachdem die Eisenbahnlinie zwischen Albuquerque und Needles gebaut wurde. Auch der Fund von Bodenschätzen in der Gegend um die Stadt trug dazu bei das immer mehr Menschen angezogen wurden.
Die Stadt entwickelte sich als Knotenpunkt zwischen mehreren bedeutenden Orten in der Region. Heute gibt es noch ein paar wenige Überbleibsel von der historischen Route 66.
Unsere Bewertung:  Wegen seiner guten Lage sind wir auf unseren Touren durch den Südwesten auch in Kingman schon öfter vorbei gekommen. Es ist ein ganz guter Übernachtungsort.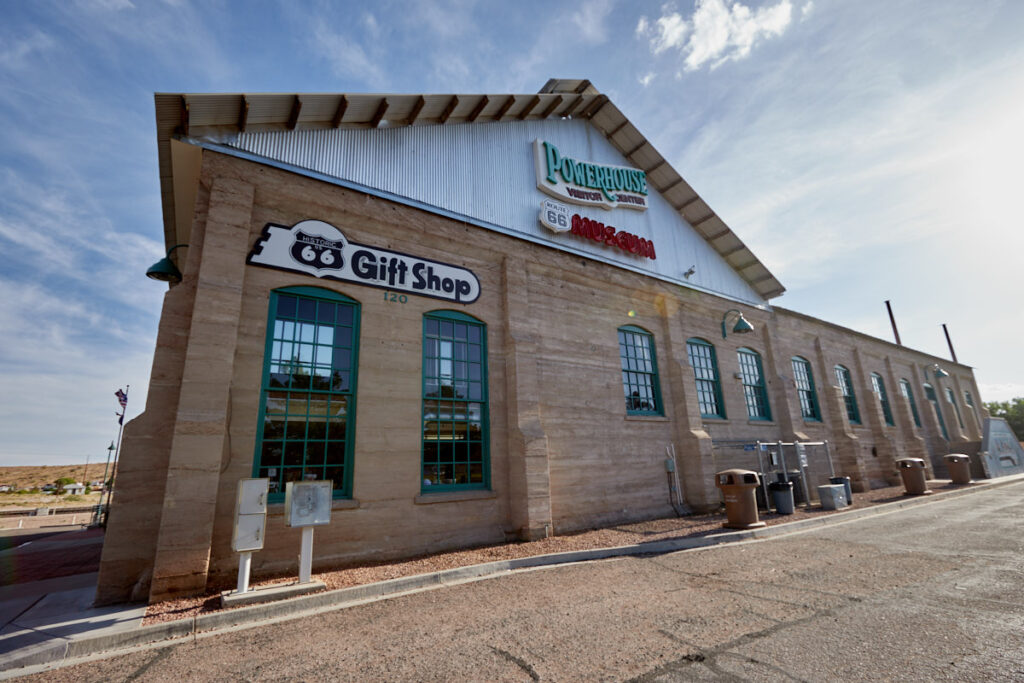 Beschreibung: Oatman ist ein ehemaliges Goldgräberstädtchen ganz im Westen des Bundesstaates Arizona. Heute ist es eine beliebte Station für alle Biker und Touristen, die auf der alten Route 66 unterwegs sind. Der Ort ist ein gutes Beispiel dafür, wie Orte an der historischen Straße wiederbelebt werden.
Fun Fakt: Am 18.März 1939 verbrachten Clark Gable und Carole Lombard im Oatman Hotel ihre Hochzeitsnacht. Das Zimmer von damals ist noch original eingerichtet und kann besucht werden.
Unsere Bewertung:  Oatman ist auf jeden Fall eine Reise wert. Schon allein wegen der wilden Esel, die hier überall herumlaufen. Uns hat es Spaß gemacht ein wenig durch den Ort zu laufen und Route 66 Luft zu schnuppern.
Lust auf mehr von der Mother Road?