Beschreibung: Joliet, die fünftgrößte Stadt in Illinois bot für uns die ersten Highlights entlang der Route 66, nachdem wir Chicago verlassen hatten. Da es die Route 66 nicht mehr als durchgängige Strecke gibt, war es nicht immer leicht alles gleich zu finden, aber das Suchen hat sich gelohnt.
Gleich wenn man den Ort erreicht findet sich die Eisdiele Rich & Creamy (Für das Navi: 920 N Broadway St, Joliet, IL 60435) auf der linken Seite und gleich gegenüber Dick´s on 66 (Für das Navi: 911 N Broadway St, Joliet, IL 60435). Beides nett restaurierte Geschäfte aus der Zeit als die Route 66 noch eine belebte Straße war. 
Außerdem findet man in Joliet ein tolles Route 66 Museum, das gleichzeitig als Visitor Center (Für das Navi: 204 N Ottawa St, Joliet, IL 60432) fungiert. Will man sich alles ausführlich anschauen, kann man hierfür sicher eine Stunde einplanen. Wer sich für alte Häuser interessiert, findet sicher am Jacob Henry Mansion Gefallen. (Für das Navi: 20 S Eastern Ave, Joliet, IL 60433). Dieses kann man auch besichtigen. Alles wissenswerte dazu findet sich auf der offiziellen Homepage.
Für uns war allerdings das alte Joliet Gefängnis (Für das Navi: 1125 Collins St, Joliet, IL 60432) das Highlight Nr.1, dient es doch für die Anfangssequenz von Gerds Lieblingsfilm Blues Brother, als Kulisse. Mittlerweile werden sogar Touren durch das alte Gefängnis angeboten. Alles wissenswerte dazu findet sich auf der offiziellen Homepage.
Unsere Bewertung: Für uns bot Joliet wirklich ein paar nette Highlights an der alten Route 66. Für die Stadt kann man gut und gerne einen halben Tag einplanten.
Beschreibung: In Wilmington begegnet uns unser erster Giant Diese findet man immer wieder, meistens vor Geschäften oder Restaurants. Früher dienten sie zu Werbezwecken, heute sind sie meist nur noch Road Side Attraktions. Der Astronaut steht vor dem Launching Pad Restaurant in Wilmington. Das Diner wird leider nicht mehr betrieben (Mai 2017), ist aber wohl verkauft worden und soll bald wieder in altem Glanz erstrahlen, denn dieses Diner war ein sehr gut gehendes Restaurant entlang der Route 66. Bis dahin bleibt nur ein Foto durch die Fensterscheiben. Für das Navi: 810 E Baltimore St, Wilmington, IL 60481.
Das Launching Pad Drive In ist seit dem Frühling 2019 wieder geöffnet. Alles wissenswerte dazu findet sich auf der offiziellen Homepage.
Unsere Bewertung: Bestimmt kein must see, aber ein kleiner netter Stopp. Schon alleine wegen dem Astronauten-Giant. Da auch das Diner wieder offen ist, kann man hier sicher auch wieder lecker essen.
Polk-A-Dot Drive inn, Braidwood
Beschreibung: Das Polk-A-Dot Dirive Inn in Braidwood ist ein typisches historisches Diner aus den Hochzeiten der Route 66. Es gibt allen möglichen Krimskrams zu bewundern. Außerdem gibt es um das Restaurant herum einige Fieberglasfiguren von berühmten Persönlichkeiten wie z.B. Elvis und Marilyn Monroe.
Für das Navi: 222 N Front St, Braidwood, IL 60408
Unsere Bewertung: Ein sehr hübsches historisches Diner das auf jeden Fall einen Stopp lohnt. Wir haben hier eine Lunchpause eingelegt um das leckere Essen zu genießen. Man kann einiges entdecken und es bieten sich auch ein paar hübsche Fotomotive.
Beschreibung: Der nächste Stopp ist in Gardner am Two Cell Jail und dem daneben liegenden Street Car Diner. Das Schild davor stammt noch von dem alten Riviera Restaurant, das hier stand, aber 2010 vollständig abbrannte. Das Street Car Diner ist ein originales Route 66 Diner, das restauriert und danach hierhin verfrachtet wurde.
Für das Navi: 400 E Mazon St, Gardner, IL 60424
Die Fahrt geht weiter in Richtung Dwight wo man zwei ganz nett restaurierte historische Tankstellen findet.
Für das Navi: Historic U.S. 66, Dwight, IL 60420 (Amber´s Texaco), 209 S Old Rte 66, Dwight, IL 60420 (Route 66 Tire and Auto).
Unsere Bewertung: In Gardner gibt es nicht viel zu sehen. Der Ort ist winzig und nach 20 Minuten haben wir unsere Fotos im Kasten und sind weiter gezogen.
Genau so in Dwight, denn leider waren die Tankstellen bei unserem Besuch geschlossen. So blieb nur ein kurzes Foto von außen.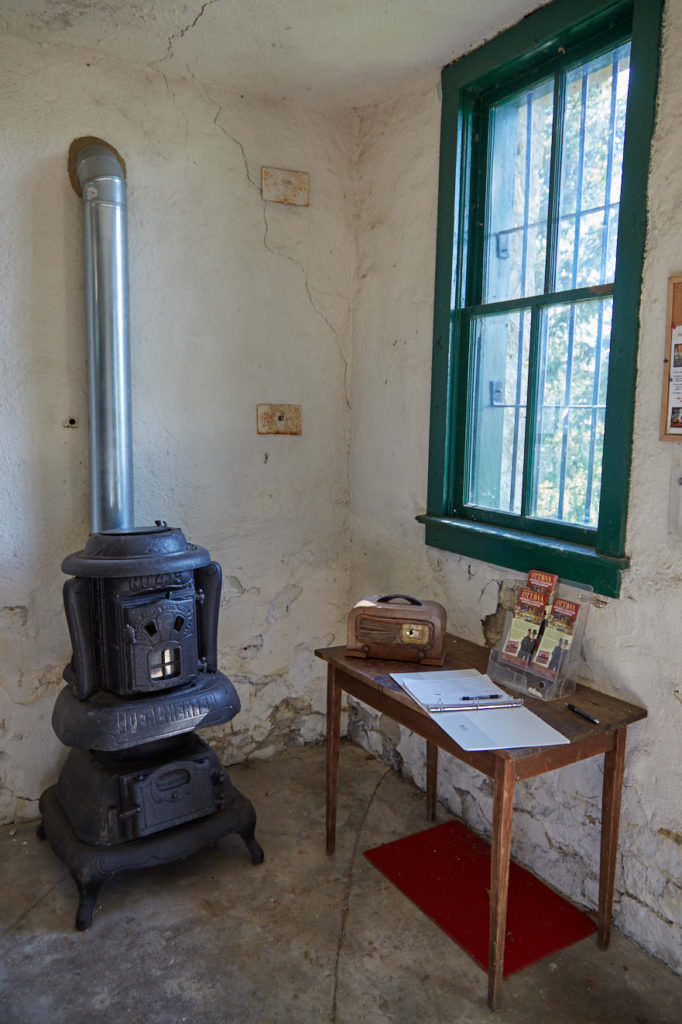 Beschreibung: Kurz vor Lexington findet sich mit der Memory Lane noch ein kurzes Stück originaler Route 66. Die Straße ist allerdings leider nicht immer geöffnet. Man kann sie aber immer zu Fuß entlang laufen. Wir hatten Glück und konnten das kurze Stück mit unserem Auto fahren.
Auch an unserem nächsten Stopp in Towanda findet sich noch ein originales Stück der alten Route 66. Hier kann man sie allerdings nicht mehr befahren, damit so viel wie möglich von der originalen Straße erhalten bleibt. Die Straße ist hier mit einer USA Karte bemalt, auf der der gesamte Verlauf der Route 66 aufgemalt ist.
Unsere Bewertung: Zwei sehr nette Stopps entlang der Straße. Irgendwie fanden wir es wirklich toll, dass es noch wirklich originale Stücke dieser legendären Straße gibt. Für uns waren das mit die Highlights auf unserer Fahrt über die Route 66.
Beschreibung: Unser nächster Stopp an der Route 66 war das Cozy Dog Drive In. (Für das Navi: 2935 S 6th St, Springfield, IL 62703). Ein originales Diner, die Heimat des Corn Dogs. Das sind Hot Dogs in einer frittierten Hülle aus Maismehlteig. 
Die Sugar Creek Covered Bridge liegt zwar nicht direkt an der originalen Route 66, ist aber eine nette Road Side Attraktion. (Für das Navi: 769 Covered Bridge Rd #587, Glenarm, IL 62536).
In Auburn gibt es eine weitere Besonderheit zu entdecken, denn hier ist ein kurzes Stück der Route 66 mit Ziegelsteinen aus dem Jahr 1932 gepflastert. (Für das Navi: 4995-4790 Snell Rd, Auburn, IL 62615)
Unsere Bewertung: Sollte man die originale Route 66 entlang fahren, kommt man zwangsläufig an allen Attraktionen vorbei. Je nach Interessenlage kann dann jeder entscheiden wo das Anhalten lohnt oder eben nicht. Wir können die drei kleinen Sehenswürdigkeiten südlich von Springfield empfehlen. Alle kosten nicht viel Zeit und lohnen einen kleinen Stopp.
Ach ja und die Corn Dogs waren lecker.
Old Chain of Rocks Bridge
Beschreibung: Über den Mississippi und durch St. Louis gab es im Laufe der Zeit mehrere Verläufe der Route 66. Einer davon führte über die Old Chain of Rocks Bridge. Die Brücke mit einem Knick. (Für das Navi: 10820 Riverview Dr, St. Louis, MO 63137). Sie zu finden ist nicht so einfach, denn mittlerweile liegt sie sehr abgelegen.
Es gibt aber einen relativ großen Parkplatz und hat man diesen gefunden, kann man sich auf den 1.6km langen Weg über die Brücke machen. Die Brücke ist nur für Fußgänger und Radfahrer geöffnet. Direkt auf der Brücke verläuft die Grenze zwischen Illinois nach Missouri.
Unsere Bewertung: Für alle Route 66 Pilger ist die Brücke ein must see. Wir fanden besonders den Mississippi beeindruckend, den man ja beim Überqueren fast die ganze Zeit unter den Füßen hat. ein unglaublich riesiger Strom. Wir können einen Ausflug hier hin zu der Old Chain of Rocks Bricks empfehlen. Uns hat die Brücke mit dem Knick ganz gut gefallen.
Lust auf mehr von der Mother Road?